Searches for organic and vegan skincare are up 71% this year. Google Search data collated by Pai Skincare reveals a 71% annual increase in searches for organic and vegan skincare[3]
Certified organic and natural beauty and wellbeing product sales grew by 15% in 2021.[4]
In the era of conscious consumption more shoppers are concerned with what goes into the products they buy, how they're packaged and disposed of, and how they reach us. But why should shoppers make the switch to certified organic?
Below you'll find five reasons to shop certified organic skincare products accredited by organisations like the Soil Association and COSMOS
1. It's about people and plants
Organic certification means the formula contains organically grown ingredients, with no pesticides and no contaminated soil. But that's just a tiny part of the end-product.
It's also about minimising the impact on farmers and their communities, ensuring the people making the product are paid fairly, and not using endangered plants (which many brands still do).
The breadth of ethical standards goes far beyond the ingredient itself. It means due diligence has been done at every step of the supply chain.
2. It protects our water
Access to clean water is a major global issue. Organic certification means that every ingredient has been audited for what happens when it goes down the plughole, into our oceans and rivers.
Choosing certified organic ingredients means they biodegrade and they're not leaving any trace.
Certified organic skincare brand, Pai Skincare has Soil Association and COSMOS certification and uses naturally derived ingredients. Sarah Brown, Pai's founder adds: "We're playing our part in reducing water wastage in our manufacturing process. At Pai we manufacture our own products in Acton, West London, and we have a closed loop system in our production facility that recycles water, using reverse osmosis to deliver 70 litres of purified water per hour."
3. Planet-friendly packaging
The beauty industry is making huge strides in reducing plastic waste and putting its packaging under the microscope, but with certified organic skincare it's not optional – it's part of the deal.
To be certified, products must follow strict rules on excess packaging, from the components of bottles and tubes to the boxes they're sent in. That's why you'll see recycled paper and biodegradable corn starch chips in use for certified brands. You won't see plastic tape: that's been replaced with paper tape so you can easily recycle it at home.
Sarah Brown, founder of Pai Skincare remarks:
"Landfill and the concept of burying your rubbish out of sight (and out of mind), offends me a lot. At Pai we've made a lot of progress in making our packaging more sustainable, while ensuring it continues to protect our products as efficiently as possible.
"We've eliminated leaflets and introduced recycled material into over 80% of our retail tubes. We've also invested in bioplastic from sugarcane which is a renewable and sustainable source of packaging. We also offer a recycling returns service to help our customers responsibly dispose of packaging."
4. It takes the pressure off the consumer
Sarah Brown of Pai Skincare says: "We're firm believers that when it comes to skincare, we should be doing all the hard work for you. You shouldn't have to worry about where an ingredient comes from or whether a brand you're considering is caring for the planet."
Choosing certified organic skincare means you can trust that it is what it says it is on the bottle, and know that you're making a good choice, because each product has been independently checked at every step of its journey. Those little logos are stamps of authenticity, designed to make sure you're not wasting a penny on products that aren't what they say they are – or what you want them to be.
5. It works
This shouldn't be surprising. But for many there's still a misconception that organic skincare isn't effective or scientific – and that couldn't be further from the truth. Ultimately, Pai Skincare's founder Sarah Brown chose to create certified organic skincare products because it was the incredible therapeutic properties of plants that really transformed her skin when she first began struggling with chronic urticaria.
The formulation process itself is just as high-tech as with any other skincare, only it's using different raw materials. There are exciting natural actives emerging all the time with science behind them to back up what they can do for your skin. Opting for certified organic products is not a compromise.
Shop Pai Skincare's certified organic skincare now
Find out more about Pai Skincare's recycling scheme
Summer 2022's Cosmos Organic, Soil Association certified, vegan and Leaping Bunny cruelty-free best-sellers from Pai Skincare

The Impossible Glow Bronze, packed with organic skincare benefits and a glow to beat all others.
£29 for 30ml/£19 for 10ml. 

British Summer Time, organic cruelty-free SPF 30 sun cream for sensitive skin. A non-greasy, non-nano Zinc Oxide sunscreen for sensitive skin, protects against UVA + UVB. Sits comfortably under makeup. Reef-friendly formula boasting blue-light and infra-red protection.
£39 for 75 ml / £29 for 40 ml.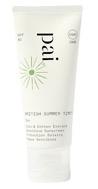 Rosehip Bioregenerate game-changing organic Rosehip Oil. A real multi-tasker, it tackles blemishes, dry patches, pigmentation, dullness, redness and fine lines. Nourishing and highly regenerative, Pai's cruelty-free Rosehip Oil for the face, sometimes known as Rosehip Seed Oil, is carefully crafted to benefit all skin types.
£39 for 30 ml/£16 for 10ml.
Aldi Introduces its new white peach gin