I believe every trip to Marrakech should start right in the beating heart, at one of the worlds most beautiful Riads – La Sultana.
Moments from the royal palaces, souks and museums this is a romantic hideaway within the walled medina of Marrakech. A small, luxury, boutique hotel with only 28 rooms, two hammams, a beautiful rooftop terrace and even a candlelit pool.
The perfect base to spend your first day submerged in the Kasbah neighbourhood visiting Jemma El-Fnaa Square and it's exotic souks with a private guide. La Sultana is perfectly located, just set back from the main thoroughfare yet still less than a ten-minute stroll to the centre of Djemaa el-Fna.
After a morning spent on your feet, spend the afternoon exploring the city in a vintage sidecar, on a once in a lifetime adventure to see the city at it's best. There is no better place to spend the first evening relaxing at La Sultanas rooftop terrace, as dusk falls, listening to the sound of the call to prayer.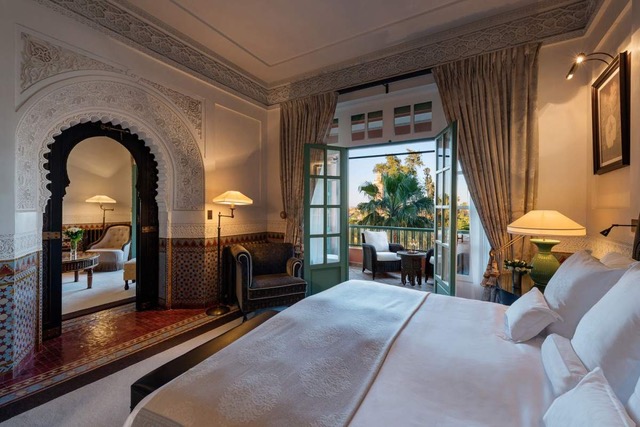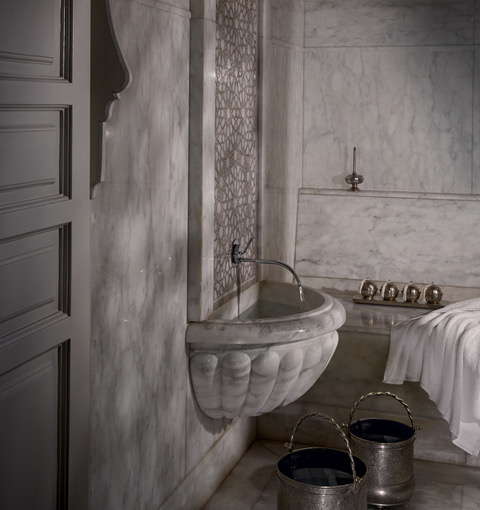 After a couple of nights at La Sultana, most of my clients prefer to leave the riad to experience a different style of hotel within the city, and there is none better than the timeless, La Mamounia. For more than 95 years La Mamounia has been a beloved destination for discerning travellers. Designed on a Moroccan palace, it's sprawling lush gardens and handcrafted Moorish opulence sit within perfect reach of the Medina and surrounding areas but tranquil enough to enjoy the peace and quiet. Deluxe Rooms and above all have their own private terrace and clients can choose between views of the Atlas Mountains, the Gardens or the Koutoubia Mosque. For really special occasions, I recommend the Churchill Suite or for a slightly less masculine feel, the Baldaquin Suite.
La Mamounia has four incredible restaurants each with a bar to match however for something a little more traditional, it is from here I recommend guests venture out to one of the oldest Moroccan restaurants, run entirely by women, Al Fassia Aguedal. A staple on the culinary scene of Marrakech for more than 30 years, serving Traditional Moroccan cuisine a la carte. Ask to dine outside, a table on the lantern lit terrace underneath olive trees is as romantic as it gets.
For an after-dinner drink, Baromètre Marrakech is the best cocktail lounge in town. There's plenty of nightlife to be enjoyed in Marrakech, such as live jazz on the roof of La Pergola, in the medina during the week, while on the weekends, the best DJs can be found at Kabana, a roof terrace with wonderful views.
Another lovely activity I like to recommend either in the morning or afternoon when the weather is slightly cooler is a visit to the 2 and half acres of private garden of Jardin Majorelle which was once owned by Yves Saint Laurent. The electric blue Cubist villa designed by French architect Paul Sinoir is worth the visit itself.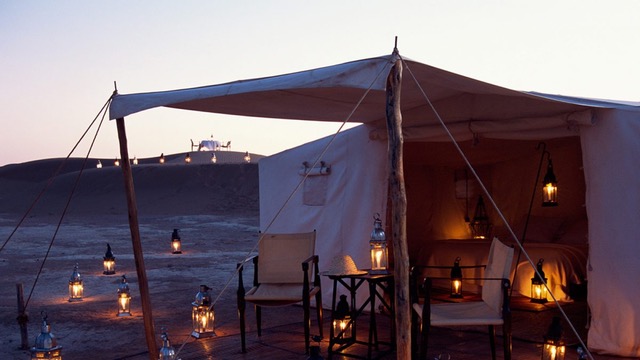 If you're overly keen on plant viewing, stop by its Musee Berbere, an art deco studio housing a some 600 Moroccan artefacts and by far one of the country's most beautifully curated museums. In recent years a Yves Saint Laurent museum also opened within the gardens.
Many place Marrakech in the 'long weekend' category when I really recommend about 7 days to truly experience much it has to offer. Another incredible experience is to be woken before dawn and collected by your private driver in a Land Rover Defender which embarks you on the hour long drive out of the city and deep into the desert just as the sun is beginning to rise. Reaching a Bedouin camp you are welcomed with a traditional Moroccan breakfast with pastries, pancakes, homemade preserves, fresh juices and mint teas. Enjoy the beginning of sun rise as you watch your private hot air balloon be inflated in front of you. Spend the next hour floating through the air as the sun begins to rise over the dessert and enjoy the feeling of freedom and complete tranquillity. This is a once in a lifetime experience that can be entirely privatised for just one couple of family to enjoy.
After coming back down to earth, camels are waiting to take you back to the cars, before you're driven back to the hotel for a doze next to the pool. Such an early start lends itself well to a relaxing afternoon and one of my favourite activities to do and recommend whilst in Marrakech, the hammam. A traditional Moroccan bathing ritual that cleanses using a black olive oil soap and a Kessa (A traditional mitt), the body is then covered in clay and the hair washed in rose water. An incredibly relaxing experience with instant, tangible results, I recommend this ritual in one of the best spas of all time – at Royal Mansour. The hammam at Royal Mansour's spa is a hidden jewel where pearly white marble and the gentle murmur of fountains set the scene for this immersive experience rooted in the Moroccan lifestyle.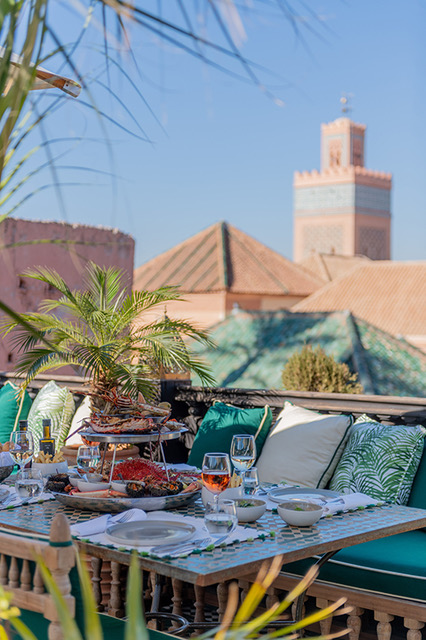 To finish off a trip to Marrakech and to experience something entirely different I recommend clients take a trip to Dar Ahlam, in the remote desert oasis of Skoura. This traditional 14 room Kasbah stands out amongst the landscape as an ideal retreat for relaxation but also a cultural treat. Literally meaning 'house of dreams', all rooms have an almost nomadic theme, with textiles from all over the world, colourful tiles and wood burning stoves at the end of each tub. There is a pool that frames the gardens and a hammam for spa treatments but the real gem is that there is no restaurant at Dar Ahlam, every meal taken is served in a new setting be it a table on the lawn, a candle lit tent or an alcove in the Kasbah.
Most clients come to Dar Ahlam for approximately 3 or 4 nights, with one night being spent out in the wilderness of the desert, in a private luxury tent under the stars. The hotel only ever arranges one trip at a time, so this is an incredibly remote and private experience for the adventurous!
"Clients often come to me looking for one individual they can trust to take care of all their travel arrangements, removing the stress and worry.

I become their sole point of contact to arrange aspects of their personal travel, working one on one with them to create bespoke trips suited perfectly to their needs.

With a network of contacts worldwide, and access to preferential rates within the luxury industry, my clients benefit hugely from both and are incredibly well looked after wherever they travel."