Margot Robbie is set to star in The Barbie Movie in 2023 but with stills from film released this month, hysteria has already set in and aesthetic trend 'barbicore' is sweeping the fashion and beauty industry.
Think 50 shades of pink like Valentino AW22, Kim Kardashian for Balenciaga, Megan Fox's cotton candy hair or full on fuchsia locks like Dua Lipa…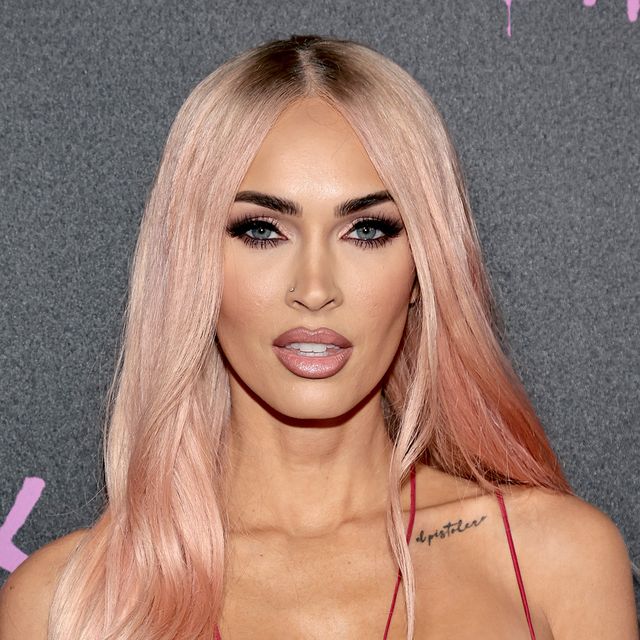 When it comes to hair, pink, pink and more pink is in but whichever shade you choose, it can be tricky to maintain. We caught up with expert stylist Tyler Moore from Live True London to give us the lowdown on pink hair transformations, including how to achieve, keep-up and prolong your barbicore tresses.
How can we achieve cotton candy hair like Megan Fox?
Tyler Moore says "To achieve such a light tone, you'll usually need to bleach your hair first, even if you're already a blonde. Your hairdresser will then tone your lightened hair to get a good base to apply a pastel pink dye. An all over colour like this can be quite high maintenance, especially with a colour like pink, so a pastel pink balayage can be a good option for a more easy going look."
If you're thinking of going pink with your hair, what are the key considerations?
"Pink will fade fast! Invest in some good colour safe hair care at home and make sure to pop back into the salon to keep your colour looking fresh. There's also lots of options out there for keeping your hair looking bright in between salon sessions, such as colour conditioner drops or colour hair masks. Depending on how much you wash your hair, you will be looking at topping up your colour every one to two weeks."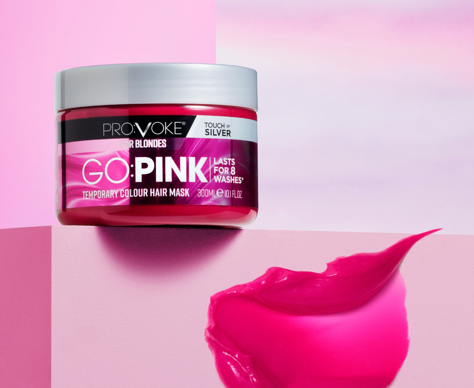 Try the NEW PROVOKE GO:PINK Temporary Colour Hair Mask (£6.99, Superdrug.com) Suitable for light to medium blonde and white hair, as well as highlights and balayage, this fun mask will add a pop of pink to your look and keep it looking fresh. Easy to use, simply apply to wet hair, smooth, and leave for five minutes. Let it fade away in up to eight washes or boost it back every other wash – perfect to maintain pink hair between salon trips.
How can you achieve a pink hair transformation if you have blonde hair?
Tyler Moore advises "If you're a particularly light blonde, you can try using a an at-home colour mask that will last a few washes. Otherwise, you'll likely need to take a trip to the salon, especially if you're after a bolder shade or want a balayage technique"
Can a pink makeover be achieved if you have dark hair?
Tyler tells us "You can definitely achieve pink on dark hair, but the hair will need to be lifted a lot more to get a blonde shade light enough for pastel pink. When this fades, it will also likely be a high contrast blonde tone against your natural dark hair, which can make roots look much more noticeable and therefore higher maintenance."
What shades of pink are set to transition from summer to winter?
"We love this peach to bubblegum pink trend that's taken over spring and summer, and as we transition into winter, we're expecting to see a lot more frosted tones alongside muted mauves and berries."
What about neon like Dua Lipa? How can this trend be trialled and can hair stay healthy?
"If you've already got bleached hair and are ready for a toner refresh, it's easy to achieve a more neon shade of pink with some semi-permanent colour. Neon and therefore darker shades are much more forgiving, will show up better on more shades of hair, and careful application will avoid a patchy result if you do this at home. Your stylist will be able to give you a much more tailored approach, meaning you're more likely to achieve a colour closer to what you want, and they can advise you on the right tones for your skin colour etc."
How should we look after pink dyed hair from a colour and health point of view?
"It's important to treat any coloured hair with reparative hair care, avoid heat styling and try to minimise damage where possible."
The Most Beautiful PLaces in Croatia